AVAILABLE LATE MAY/EARLY JUNE 2013!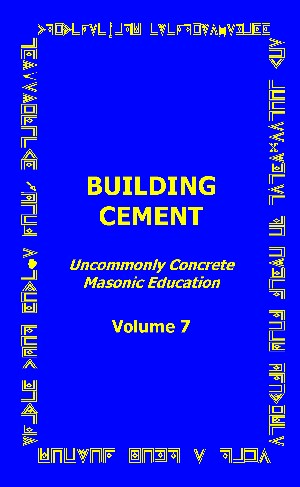 Building Cement

Uncommonly Concrete Masonic Education
This 13 Chapter book is designed to provide to you insights into how the Cement of Brotherly Love and Affection is Cultivated within Masonic Brothers who Recognize, Understand and Implement what Freemasonic Ritual points toward. This book has 160 pages of concrete information with additional Work opportunities, appendices, footnotes and Masonic challenges throughout the book.
Order Now for Only:
$25.00 $18.00 US*
(*Limited Introductory 28% Savings
Offered Direct from the Author)
Author Note:
Building Cement is a continuation of the Building Better Builders Series of Uncommon Masonic Education books that I began writing back in 2008.
Building Cement delves into the process of Cement fabrication from materials revealed within Ritual and how understanding its fabrication can assist in developing Strong Bonds within and between Brothers and others. It's offered as a instruction manual that can be used to Coach, Mentor, Tutor, Instruct and Train Brothers and yourself in developing the Cement of Brotherly Love and Affection between all men, who choose to do this Work.
Like most things that are Masonic, the focus is put forth Symbolically but this book does also get into the actual Operative mechanics of Cement Fabrication. As always, it is intended to be directed inwardly to help refine the intended audience. In other words, the book is about helping you identify things that they can do to improve yourself and others.
These goals, of course, and having a lot of fun along the way.
Fraternally & Sincerely,
Dr. John S. Nagy
Tampa Bay, Florida - Nov. 2013

Masonic Light is near impossible to obtain if you don't know where to look. In "Building Cement", Volume 7 of the "Building Better Builders" series, Dr. Nagy shares Thirteen jammed-packed chapters filled with insights and information designed to help you to train yourself to recognize when you are faced with a growth opportunity, help you understand what you can do to be a Better man and help you take more effective actions in dealing with Brothers and yourself on a day to day basis. Masons on the Masonic path will glean tremendous Insights into what they can do to Better their options, choices and abilities, in these respects.

Dr. Nagy's book contains:

Insights and Light on the Challenges that all Brothers face in Cultivating Brotherly Love and Affection.
The Three Primary Working Materials used to Cultivate this Love.
Critical connections, ideas and concepts that help you better recognize, Understand and Apply these Working Materials that are not currently communicated directly through Masonic Ritual.
Thought-provoking development questions and exercises designed to stir and support your Skills and Masonic Transformations.
Invaluable fodder for Masonic Discourse between Brothers within the Lodge and without.
Assorted Masonic Ciphers and other information intended to challenge, delight and support the concepts Masons need in their Work.
and much more...

Dr. Nagy provides you with yet another interesting, entertaining and thought-provoking guide to improve, strengthen and support your Masonic awareness and clarity. He shares key information and insights that will help you better understand how facets of Blue Lodge Ritual fit together to help you in all your present and future Building efforts.

Check out the Table of Contents!
Check out the Building Blog!
Check out the Reviews!
Check out the Sample Chapters (Coming soon!)

Expect first Shipments soon after Nov. 15, 2013!
International orders may require additional shipping costs not automatically calculated by the checkout cart.

Click here to order the entire Building Series Book Set with significant savings off the Cover Prices!

If this book interests you, please check out...