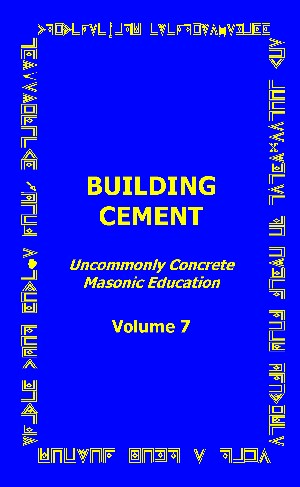 Building Cement
Uncommonly Concrete
Masonic Education
VOLUME 6

Table of Contents 

Preface 					 iv
Primer						  v
Introduction 					  8
    I. 	The Working Clue 			 12
   II. 	The Working Materials 			 20
  III. 	The Speculation 			 32
   IV. 	The Proper Preparation 			 39
    V. 	The Work 				 47
   VI. 	The Three – Agape-Philia-Eros 		 57
  VII. 	The Fourth – Storge 			 64
 VIII. 	The Fifth – Philoxenia 			 73
   IX. 	The Sixth – Philautia 			 85
    X.	The Seventh – Philanthropia 		 93
   XI. 	The Order of Love 			102
  XII. 	The Dry-Dykers 				119
 XIII. 	The Eighth – Philotheia 		132

Appendices 					140
    1.	The Continuum 				140
    2.	Water 					147
    3.	Words of Love 				149
    4.	About the Author 			154
    5.	Recommended Readings / Endnotes		155

Building Cement - Uncommonly Concrete Masonic Education - Volume 7
Available soon for Only: $25.00 US!$18.00 US!*
(*Limited Time 28% Discount Savings Offered Direct from the Author)

This is a must have book for aspiring Master Masons and all those Masons who Mentor and Coach them.
Check out the Overview.
Check out the Building Blog!
Check out the Reviews!
Shipping to occur shortly after Nov. 15, 2013)
International orders may require additional shipping costs not automatically calculated by the checkout cart.

Click here to order the entire Building Series Book Set with significant savings off the Cover Prices!