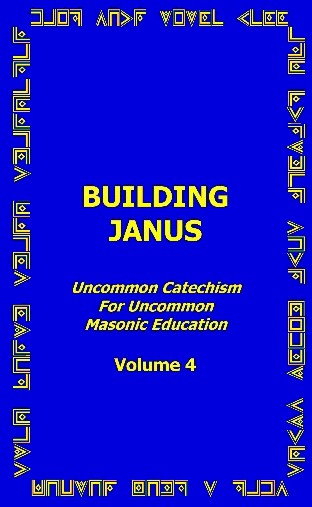 Building Janus
Uncommon Catechism for
Uncommon Masonic Education
VOLUME 4

Table of Contents 

Preface	                                      iv
Catechism Primer                               v
Introduction                                   8
     I.	The Bourne                            13
        The Bourne Catechism                  15
    II.	The Foreign Paths                     29
        The Foreign Paths Catechism           31
   III.	The Masterís Working Tools            43
        The Masterís Working Tools Catechism  44
    IV.	The Ordering                          56
        The Ordering Catechism                59
     V.	The Boney Grasp                       68
        The Boney Grasp Catechism             70
    VI.	The Widowís Cain                      86
        The Widowís Cain Catechism            88
   VII.	The Ruff                  	      98
        The Ruff Catechism                   100
  VIII.	The Masterís Word                    109
        The Masterís Word Catechism	     111
    IX.	The Mettle of Man                    121
        The Mettle of Man Catechism          123
     x.	The Sharpener             	     135
        The Sharpener Catechism   	     136
    XI.	The Lionís Pause                     150
        The Lionís Pause Catechism           152
   XII.	The Speculative                      164
        The Speculative Catechism            166
Janus    	                             180
Resources and Footnotes	                     181

Building Janus - Uncommon Catechism for Uncommon Masonic Education - Volume 4
Available soon for Only: $25.00 US!$18.00 US!*
(*Limited Time 28% Discount Savings Offered Direct from the Author)

This is a must have book for Master Masons and all those Masons who mentor them.
Check out the Overview.
Check out the Building Blog!
Check out the Reviews!
NOW Shipping (as of January 25, 2010)
International orders may require additional shipping costs not automatically calculated by the checkout cart.

Click here to order the entire Building Series Book Set with significant savings off the Cover Prices!