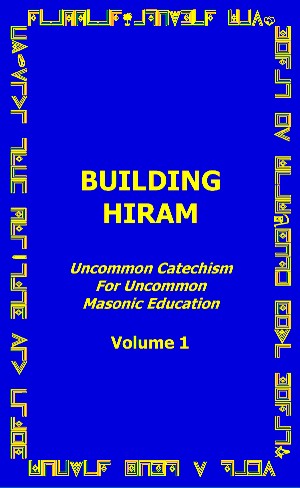 Building Hiram
Uncommon Catechism for
Uncommon Masonic Education



Table of Contents

Preface                                         iv
Catechism	                                 v
Introduction                                     8
     I. The Ashlars                             15
	The Ashlars Catechism                   16
    II. The Stone Builders' Tools               25
	The Stone Builders' Tools Catechism     27
   III. The Orders of Architecture              45
	The Orders of Architecture Catechism    48
    IV.	The Staircase Unwound                   56
	The Staircase Unwound Catechism         57
     V.	The Four Ruffians                       70
	The Four Ruffian Catechism              73
    VI.	The Ancient Penalties                   81
	The Ancient Penalties Catechism         83
   VII.	The 3-4-5 Triangle                      93
	The 3-4-5 Triangle Catechism            95
  VIII.	The Sacred Triad                       101
	The Sacred Triad Catechism             103
    IX.	The Square and Compasses               112
	The Square and Compasses Catechism     113
     X.	The Temple's Templar                   123
	The Temple's Templar Catechism         124
    XI.	The Lost Word                          138
	The Lost Word Catechism                142
   XII.	The Master's Wages                     147
        The Master's Wages Catechism           149
        Resources and Foot Notes               161

Now Shipping!
International orders may require additional shipping costs not automatically calculated by the checkout cart.
Building Hiram - Uncommon Catechism for Uncommon Masonic Education
Available Now for Only: $25.00 US!$18.00 US!*
(*Limited Time 28% Discount Savings Offered Direct from the Author)


Click here to order the entire Building Series Book Set with significant savings off the Cover Prices!