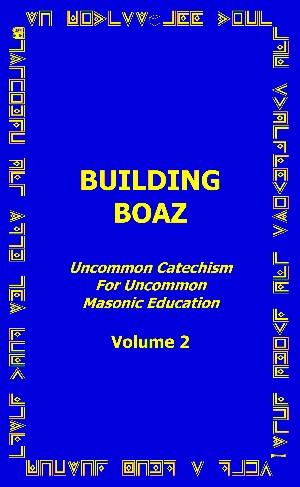 Building Boaz
Uncommon Catechism for
Uncommon Masonic Education
VOLUME 2



Table of Contents 

Preface                                       iv
Catechism Primer                               v
Introduction                                   8
   I. The Contented Container                 14
      The Contented Container Catechism       16
  II. The Threshing-Floor                     27
      The Threshing-Floor Catechism           29
 III. The Temple Mount                        40
      The Temple Mount Catechism              42
  IV. The Flanked Circle                      55
      The Flanked Circle Catechism            57
   V. The Secret Realm                        69
      The Secret Realm Catechism              71
  VI. The Purpose                             82
      The Purpose Catechism                   84
 VII. The Winnowing                           98
      The Winnowing Catechism                100
VIII. The Broached Ladder                    111
      The Broached Ladder Catechism          113
  IX. The Perfect Points                     123
      The Perfect Points Catechism           125
   X. The Fifth Perfect Point                139
      The Fifth Perfect Point Catechism      141
  XI. The Wilderness Reflection              151
      The Wilderness Reflection Catechism    153
 XII. The Roughing Work                      166
      The Roughing Work Catechism            167
Boaz                                         178
Resources and Footnotes                      179

Building Boaz - Uncommon Catechism for Uncommon Masonic Education - Volume 2
Available NOW for Only: $25.00 US!$18.00 US!*
(*Limited Time 28% Discount Savings Offered Direct from the Author)

This is a must have book for Entered Apprentice Masons and all those Masons who mentor them.
Check out the Overview.
Check out the inside for a peek!
Check out the Building Hiram/Boaz Blog!
Check out the Reviews!
Now Shipping!
International orders may require additional shipping costs not automatically calculated by the checkout cart.

Click here to order the entire Building Series Book Set with significant savings off the Cover Prices!